It's the Lakers!
Lake George Central School District announces new district nickname
LAKE GEORGE, NY (Aug. 23, 2023) – The Lake George Central School District today unveiled its new nickname – the Lakers – following a months-long process that involved student and community input.
The new nickname was announced by the district's Student Advisory Committee, which facilitated the selection process.
"The transition to the Lakers isn't only a change in name, it's part of our history. It further symbolizes the important relationships that exist between the school district and the community in Lake George, the 'Queen of American Lakes.' Moving forward, we are excited to expand upon this unifying nickname and define what it means to be a Laker," said Superintendent John Luthringer. "We are grateful to the committee for its diligence in ensuring a thorough process, and we appreciate the input from our students, staff, families and the greater Lake George community."
The district's nickname was previously the Lakers during the 1920s, 1930s and early 1940s.
In January, students were briefed on the NYSED directive and given the opportunity to learn more about the history of Lake George Central School District, the logo, mascot, and nickname. Students then became liaisons between the school district, the student body, and the greater community through a series of meetings and events. In June, through a survey the community was able to provide nickname suggestions.
The committee pared the list of 270 names suggested through the first survey down to four: Falcons, Islanders, Lakers and Owls. The final nickname survey ran from July 10 to Aug. 23 and brought in 979 votes from the Lake George community. Lakers had the highest percentage of votes with 47.1 percent with 461 votes.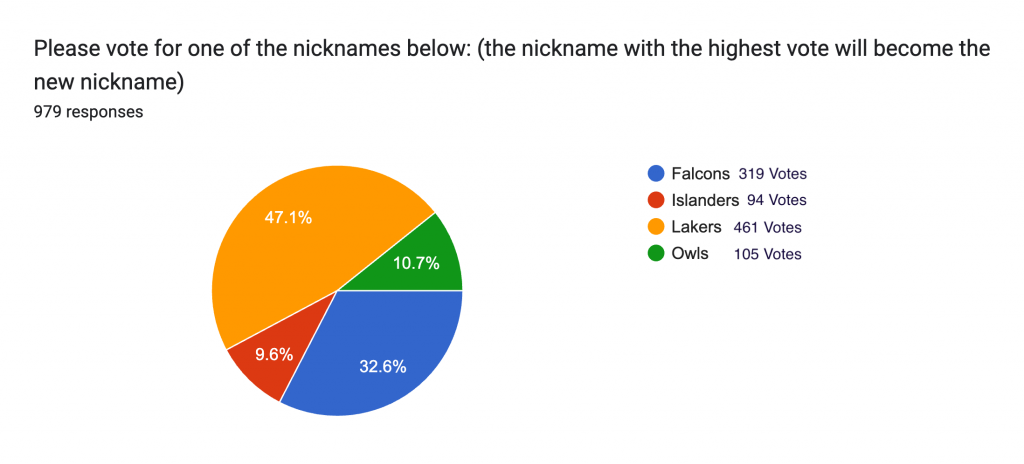 "I am so very excited for the student body as we embrace our future while looking at the past as the Lake George Lakers," said Lake George Jr.-Sr. High School Principal, Francis Cocozza. "Mr. Luthringer and I look forward to working with the student body for our nickname rollout."
The transition to the Lakers identity will be thoughtfully implemented across district facilities, communications and athletic teams, and will be accompanied by a refreshed logo and brand aesthetic later this fall that will include input from students and staff.
"It was nice to be involved in such a big change for the school and be a part of the advisory group and the process moving forward," said Oliver Herrick, senior at Lake George High School.
For more information about the Lake George Central School District and its nickname process, please visit www.lkgeorge.org